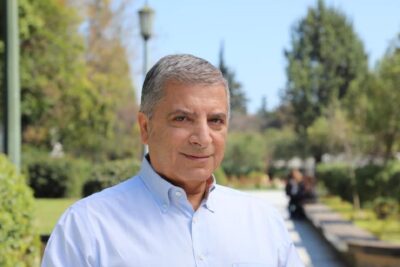 George Patoulis
Regional Governor of Attica
"The Region of Attica honours the richness and dynamics of the Attica land with the series of activities and events comprising the Attica Gaia Festival | New Thesmoforia. It is our great pleasure to collaborate once again with the Hellenic Tourism Organisation; this time devising an innovative initiative that will bring the residents and visitors of Attica closer to their roots and their land.
Spread across well-known and beloved venues of Attica, the festival has been designed with the valuable expertise of our Development Organization, New Metropolitan Attica, and is an invitation to celebrate Attica together.
It is particularly important to know the history, the potential and the prospects for our land, as they unfold from the past and evolve through modern means, so that this land, along with its products, can enjoy continued viability and sustainability, face challenges and impart its accumulated knowledge to all. With an emphasis on extroversion, the event links the primary production sector with culture and tourism, highlighting the products, potential and rich cultural tradition of Attica's land, constituting a pioneering initiative and a valuable legacy for further strengthening the extroversion of Attica's products.
In this initiative we want to have you all with us!
Congratulations to all those who worked to bring us this original Festival.
We are waiting for you all,
George Patoulis
Attica Regional Governor
Μοιραστείτε το: